You know, I think we all need some comic relief after today's ugly 8-3 loss to the Reds.
So I'll get to what the title of this post refers to in a bit, plus some other funny stuff, in a moment.
I was going to post this link, but I see that a BCB reader beat me to it with this diary.
OK, how about this, from my Cubs Blog Army colleague Kurt at Goat Riders of the Apocalypse, a fun Photoshop treatment of Greg Maddux: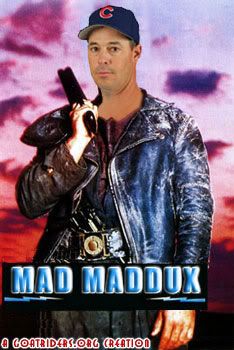 Just about anything to take our minds off today. I was joined by Jon, Phil (who wound up without a ticket, but I found someone in the bleachers with an extra), Matt Burtz (who along with his wife Jackie had joined us last year), and James Crockett, another fellow Cubs Blog Army member from Just North Of Wrigley Field. Which is, in fact, where he lives.
When we heard the lineups announced, we said nearly in unison, "Zambrano ought to bat seventh in this lineup."
He did single and score, but that was about the best thing he did today.
Oh, he also allowed only four hits and struck out eight. (The staff combined for ten K's, but then again, so did the Reds pitchers.) Unfortunately, two of those hits were homers, one a three-run job (is this starting to sound familiar?) and another was a triple to Reds pitcher Eric Milton, who scored when Z ill-advisedly tried to pick him off and threw the ball into the second row behind the Cubs dugout.
Z just seemed off today. The key play was in the third inning, Cubs down only 1-0, and Milton was on first base, having failed to sacrifice.
For some unfathomable reason, Z decided to try to pick him off there too (what's the deal? Does Z have a personal bone to pick with Milton?); unfortunately, Derrek Lee, logically, wasn't holding a pitcher close. Result: Balk.
This sort of thing can unhinge Z; two pitches later he hit Ryan Freel, and then Felipe Lopez unloaded a three-run shot, and that was pretty much it.
This club today missed Aramis Ramirez and Michael Barrett, and I'm not faulting Dusty for starting Henry Blanco -- Blanco's a decent backup catcher and he has to play sometime. Matt Murton hit cleanup today, and singled and homered, that's fine. But after that, the lineup tailed off quite a bit, as mentioned above. Angel Pagan did have a hit in the 5 slot, but also popped up twice and looked bad doing it.
The game was still in reach at 5-3 in the 8th when Dusty made a move that occasionally drives me nuts -- takes a pitcher out with two out in an inning, for "matchup" purposes.
Usually, the reason this is wrong is when a reliever gets two quick outs and then Baker switches for the platoon aadvantage, destroying the rhythm of the game. That wasn't the case today; Will Ohman had allowed a walk and a hit, but did have two out. On comes Bob Howry to face the right-handed Austin Kearns, and out goes another three-run homer, pretty much ending the game.
Oh, and I thought one of the reasons the Cubs were so hot to get Freddie Bynum is that he was a switch-hitter. Nope. Hits lefthanded, and that's using the word "hits" loosely. The Cubs should have kept Ryan Theriot.
It was warm and windy today, not quite as windy as yesterday, this time the wind blowing out over the main grandstand, so not so much blowing us over. It spit about ten raindrops just before gametime; our new section is now being discovered a bit, as a large extended family of Reds fans plunked themselves down and started snapping photos ("Hey! I'm in the bleachers!"), sometimes while the game was going on. One of them apparently couldn't decide who to root for, a boy wearing a Griffey T-shirt and a Cubs cap. I also spotted someone wearing an Adam Dunn jersey in the field boxes down the line, trying to exhort the Cubs to rally in the late innings.
Seriously, it is just not acceptable to lose two of three to a team with a pitching staff as bad as the Reds'. 4-2 is a good homestand, but having swept the Cardinals, it should have been 5-1.
Finally, here's the joke that the title refers to. It's topical -- today is the first day of Passover -- but it does require a bit of explaining if you are not Jewish or not familiar with the Passover rituals, so I will simply say that the transliterated Hebrew in the joke is part of that ritual, and the Queen's response is an English translation of that Hebrew.
Sort of.
Have fun. It's the Pirates tomorrow. The Cubs have to win two of three there, at minimum, if they hope to be more than pretenders this season.
An English Jew, a prominent novelist and intellectual, is informed that he will be knighted. The queen's protocol officials prepare him and the other knights-to-be for the ceremony. He is informed that, when he stands before the queen, he is to recite, "Philosophum non facit barba. Non in solo pane vivit homo." just before being knighted.
On the day of the ceremony, the man is very nervous and, sure enough, when he approaches the queen, he forgets the Latin expression. As precious seconds tick by, the only non-English words he can think of pour out of him: "Ma nishtana halaila hazeh mikol haleilot?"
The queen, confused, turns to her protocol officer and asks, "Why is this knight different from all other knights?"