Remember this movie?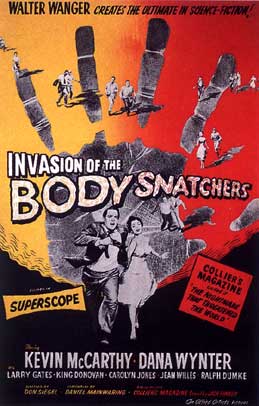 Or, maybe you remember the 1978 remake with Leonard Nimoy and Donald Sutherland. In any case, the basic plotline is that aliens, who come to Earth in "pods", slowly take over Earth people's bodies, after which they wind up acting zombie-like, following blindly the dictates of an unseen power, until they take over Earth.
The 1978 film was more of a standard science-fiction flick; the original 1956 version was a political allegory, implying that the Communists were taking over the USA in just this way -- remember, that was in the Red Scare era. (Incidentally, both of these are well worth renting.)
The point of all of this is that a number of years ago (I think it was during the 2001 season, when the Cubs came from nowhere to contend), Jeff & I tagged our favorite team the "Pod Cubs", whenever they'd do something totally out of character with what had come before.
That's sort of what happened today, isn't it? I mean, could the REAL Glendon Rusch have pitched that well, allowing only three runs in five innings, striking out five? Could the REAL Jacque Jones have had three more hits, hiking his average to .301? Could the REAL Roberto Novoa not only throw a scoreless inning, but also get a hit? They turned double plays! The new guy hit a homer! Scott Williamson was the lone holdout (the Donald Sutherland character, or the Kevin McCarthy character from the original film) -- he had a shaky ninth inning and had to be replaced by Bob Howry, who made it interesting before ending it. Incidentally, even though Williamson supposedly left with an "injury", I have a feeling that was a ruse to allow Howry time to warm up.
But you see the basic problem here. These HAVE to be the Pod Cubs.
And if they are -- keep them here as long as humanly possible.
The Cubs, or Pod Cubs, have now won two straight series, taking today's game 8-5, and actually looking darn good in the process.
Our friends at Viva El Birdos were quite sympathetic when Derrek Lee got hurt back in April:
i genuinely like the cubs; great ballpark, great tradition, and yes great fans. so their run of bad luck doesn't give me any joy. the latest piece of bad news: derrek lee broke his wrist wednesday night and will be out of the lineup for 2 to 3 months.
a real shame; the cubs-cards rivalry will be diminished by his absence, as will the playoff races. the injury will probably cost the cubs several games in the standings that they can't afford to give up; even the prospect of kerry wood's return next month can't compensate.
He was right, you know; it came down exactly as predicted there, and here, and it now becomes a good thing that the Cubs are playing a little bit better with Lee perhaps only two or three weeks from returning to action. But the reason I mention this, of course, is that the Cardinals' equivalent of Lee, Albert Pujols, left today's game in the second inning with a strained oblique muscle. They say he will be "evaluated" again tomorrow, which likely means he'll sit out the series finale.
Pujols is leading the major leagues in runs, HR, RBI and slugging percentage; he is dominating baseball, and doing it without (at least not from me) any suspicion of pharmacological assistance.
He's a great player. It's always more fun to defeat your greatest rival at full strength -- it makes the rivalry better, I'm sure you'd agree. Further, it's even better if you can hold their best player at bay, and in fact, the Cubs had done a pretty good job of that this year (5-for-29, only one HR, including today). I never wish illness or injury on any ballplayer.
That said, if Pujols is out for any length of time -- and that cannot yet be known -- Cardinal fans are about to find out what it's like to have an offense resembling the Royals', just as we have for the last forty games. Without Pujols, and with Jim Edmonds apparently still headed to the DL, the Cardinals have only Scott Rolen and seven other hitters who, frankly, don't even match up with the Cubs' current lineup. It will likely have the effect of bringing the Cardinals back to the pack in the NL Central.
The preview pages still say Kerry Wood will face Jason Marquis tomorrow, but it was announced on WGN radio that the Cubs will push Wood back to Tuesday in Houston, thus keeping him, Greg Maddux and Carlos Zambrano on rotation. Maddux, who beat the Cardinals in St. Louis on April 23, will go for the sweep tomorrow.
The last time the Cubs swept the Cardinals twice in one season was in 1978, when they, believe it or not, swept them the first four times they played them, twelve straight wins on their way to a 15-3 record vs. St. Louis. (Don't believe me? Click on the link above.)
They'll play the Cardinals eleven more times this year, including tomorrow, and are already 6-2.
Pod Cubs. Keep 'em here forever.