Being a teacher I am always on the look out for great books.  I was at a conference this past week and I stumbled across the book, The Comeback Season by Jennifer E. Smith.  Looking a the cover I knew it was a story of baseball.  When I read the inside cover,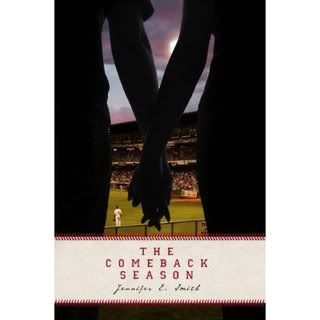 (from the book flap)...."The last place Ryan Walsh should be this afternoon is on a train heading to Wrigley Field. She should be in class, enduring yet another miserable day of her first year of high school. But for once, Ryan isn't thinking about what she should be doing. She's not worried about her lack of friends, or her suffering math grade, or how it's been five whole years since the last time she was really and truly happy. Because she's finally returning to the place that her father loved, where the two of them spent so many afternoons cheering on their team. And on this -- the fifth anniversary of his death -- it feels like there's nowhere else in the world she should be. Ryan is once again filled with hope as she makes her way to the game. Good luck is often hard to come by at a place like Wrigley Field, but it's on this day that she meets Nick, the new kid from her school, who seems to love the Cubs nearly as much as she does. But Nick carries with him a secret that makes Ryan wonder if anyone can ever really escape their past, or believe in the promise of those reassuring words: "Wait till next year." Is it too much for Ryan to hope that this year, this season, might be her comeback season?"
I knew I had to buy the book.  I sat down last night and read the entire thing.  This book was great.  It focused a love between and girl and her dad who has died unexpectedly.  Five years later she meets a boy who she has an instant connect to.  This connection forces her to acknowledge her feelings of her dad that she has suppressed.  It is written with the audience of a teenage love story.  I just really enjoyed how the author created a feeling in the book that I could relate too.  The connection to the Cubs and Wrigley field is magical in the book.  
This book might not be for most of you who frequent here, as I don't think my husband would read this book.  However, if you are looking for a book that will leave you feeling proud to be a cub fan it is this one.  As I mentioned it is an easy read and can quickly be read in a matter of hours.  Of course I had tears, and I also laughed thinking of things I have done that match up with the main character.  Her and her dad make statements like I will do the dishes for a week if the cubs can win this game.  The book parallels with the 2008 Cubs season as they make a push for the playoffs via the wild card spot.  The books ends without revealing how the season ends, however I enjoy that part of the book because it has yet to happen in real life.  
If you have a teenage daughter who loves the Cubs or baseball this would be one that you should buy for her!