It has recently been called to my attention, after the Cubs' win in Boston's Fenway Park wearing 1918 replica uniforms, that the Cubs are undefeated all-time wearing throwback uniforms. These games are as follows:
June 21, 1992 at Phillies. The Cubs won 5-2, wearing 1948-style road uniforms. A memorable moment was provided by starting pitcher Mike Morgan, who threw his first pitch of the day with an old-fashioned windmill windup. (Wish I could find video of this, I vividly remember watching it.)
June 16, 1997 at White Sox. The Cubs won 8-3, wearing 1911-style road uniforms. This was the first-ever Cubs/White Sox regular season interleague game; the '97 Cubs were a bad team, but went in and demolished the Sox that day. What was most satisfying was teeing off on ex-Cub Jaime Navarro, who gave up 11 hits and seven runs in seven innings.
June 12, 2008 vs. Braves at Wrigley Field. The Cubs won 3-2 in 11 innings wearing 1948-style home uniforms. This was done in honor of WGN-TV's 60th anniversary of doing Cubs games; the telecast was partly done in old-fashioned style and Len Kasper paid homage to Jack Brickhouse by yelling "Hey! Hey!" when Jim Edmonds hit a two-out, game-tying HR in the last of the ninth. The Cubs won when Reed Johnson got hit by a pitch with the bases loaded.
May 4, 2011 at Dodgers. The Dodgers are doing a number of games this year wearing 1944 blue Brooklyn Dodger road uniforms; the Cubs matched them with 1940's era road uni's of their own. Carlos Zambrano outdueled ex-Cub Ted Lilly, who gave up homers to Geovany Soto, Marlon Byrd and Carlos Pena. The Cubs won 5-1.
May 21, 2011 at Red Sox. The Cubs wore their 1918 World Series replicas, as did the Red Sox; Boston had a bizarre error-filled inning, giving the Cubs an eight-run 8th, and the Cubs won 9-3, their only win in the interleague series at Fenway Park.
So it's clear. It's gotta be the throwbacks. I propose that the Cubs now wear throwback uniforms for every game they play. Follow me past the jump for my suggestions of what uniform they should wear for each upcoming series for the rest of this season.
Cardinals, June 3-5, July 29-31, August 19-21 and Sept. 23-25: 1978 Cubs road uniforms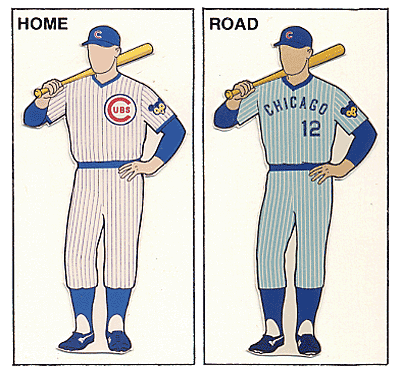 In 1978, the Cubs went 15-3 against the Cardinals, winning their first 12 and taking all three series they played in St. Louis. If nothing else, the wacky-looking powder blue uniforms with white pinstripes that resemble pajamas should make the Cardinals laugh hard enough that maybe they'll forget about winning.
Reds, June 6-8, August 5-7 and Sept. 5-7: 1945 Cubs home/road uniforms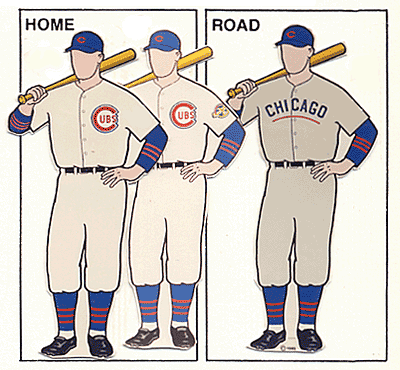 In 1945, the pennant-winning Cubs won 21 of 22 games from the 93-loss Reds (and the only loss was by one run), the closest any team came to winning an entire season series from another team during the time of the 154-game schedule. This one was easy.
Phillies, June 9-12 and July 18-20: 1938 Cubs home/road uniforms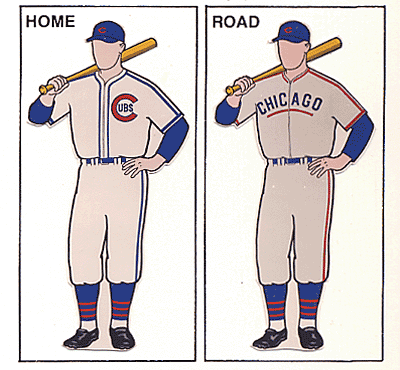 Continuing the theme from the Reds series, the 1938 Cubs were really good and won the NL pennant. The 1938 Phillies were... really bad, going 45-105. The Cubs went 18-4 against them that year. Guaranteed success!
Brewers, June 13-16, July 26-28, August 26-28 and Sept. 19-21: 1982 Cardinals road uniforms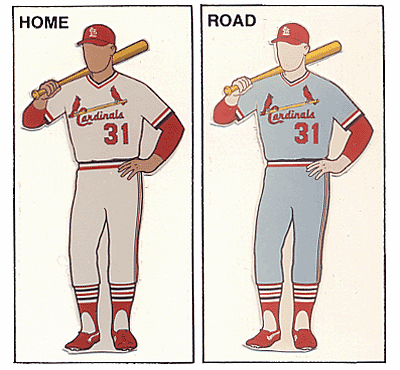 The Brewers have been in just one World Series, and lost it to the Bruce Sutter-led Cardinals; the former Cub being on that team is just one more reason to wear these uni's, which should strike fear into the hearts of Brewer fans. Not only that, but they are almost blindingly ugly -- powder blue with bright red and blue polyester waistbands and armbands. Who designed these?
Yankees, June 17-19: 2001 Diamondbacks home uniforms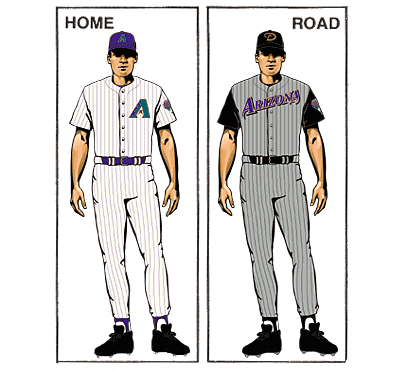 The Cubs could wear their 2003 home uniforms for this series, since they won two of three from the Yankees at Wrigley that year in a memorable set. However, the 2003 uniforms are identical to this year's, so we instead choose the uniform of the team that came from behind in an even more memorable ninth inning to win the World Series. Besides, it'll give Bob Brenly a chance to be all nostalgic.
White Sox, June 20-22 and July 1-3: 2009 Twins home/road uniforms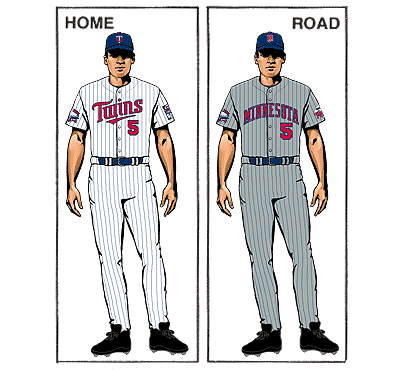 To strike fear into the hearts of the White Sox, the Cubs should wear the uniform of a team that has defeated them like the proverbial drum. Since the beginning of the 2009 season, the Twins are 27-11 against the White Sox, and 14-2 since last July 16. Plus, it'll let Koyie Hill pretend that he's Joe Mauer.
Royals, June 24-26: 1964 Kansas City Athletics home/road uniforms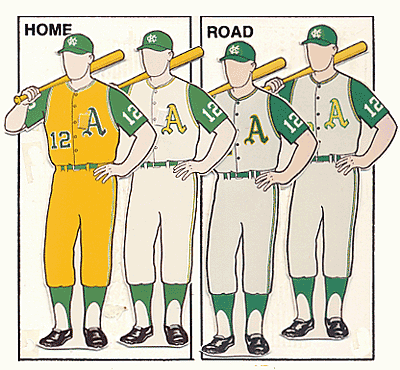 This would be presented as an "homage" to Kansas City baseball history to honor the Cubs' visit to KC, but when guys like Tony Campana take the field wearing these, the Royals wouldn't be able to stop laughing. Easy win!
Rockies, June 27 (rainout makeup game): Cubs grounds crew uniforms
In honor of all the rainouts this year, one of which has provided this makeup game, the Cubs will wear the uniforms of their own grounds crew. Matches the team colors, and provides extra revenue from the "MENARDS" logo on the back.
Giants, June 28-30 and August 29-31: 1906 New York Giants home/road uniforms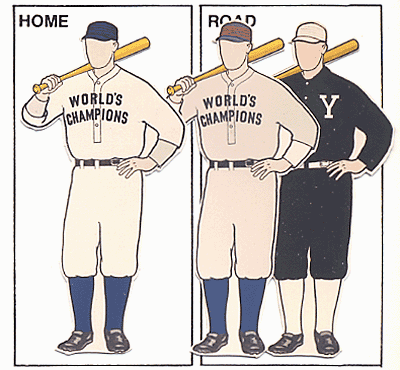 To honor last year's World Champions, a shirt that actually says "World's Champions" on it will be worn by the Cubs, who will spend all six games wondering how that actually feels... not to mention, looking across the field into the other dugout, wondering about the incongruity of Mike Fontenot wearing a shirt that reads "GIANTS".
Nationals, July 4-7 and August 8-10: 1957 Cubs road uniforms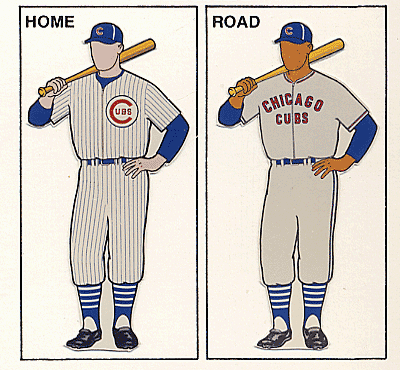 This is the only uniform in recent Cubs history that told you both the city and team name, in case you forgot either one. The white stripes on the cap and socks are another touch making this uniform suitable for wearing against a team from Walgreens Washington:
Pirates, July 8-10, August 1-4 and Sept. 2-4: 2007-08 Pirates alternate red jersey
The Pirates wore these red jerseys supposedly to honor a former mayor of Pittsburgh named Redd. Unfortunately, they more resembled these:
Maybe the Cubs should wear the McDonald's togs for these series. After all, McDonald's founder Ray Kroc tried very hard to buy the Cubs from P.K. Wrigley before finally buying the Padres.
Astros, July 22-24, August 15-17 and Sept. 16-18: 1975 Astros uniforms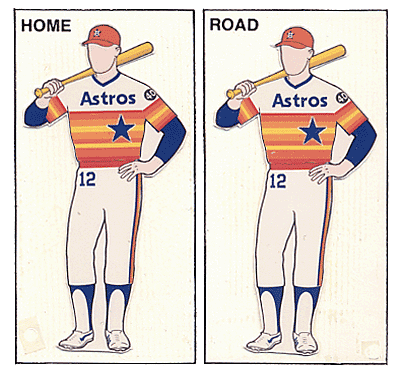 These awful uniforms, the model for many other colorful messes of uniforms in the 1970s, feature both a number on the pants leg and another one on the sleeve (#40, honoring the late Astros pitcher Don Wilson). Confusing, as well as blinding.
Marlins, July 14-17: 1918 Red Sox home uniform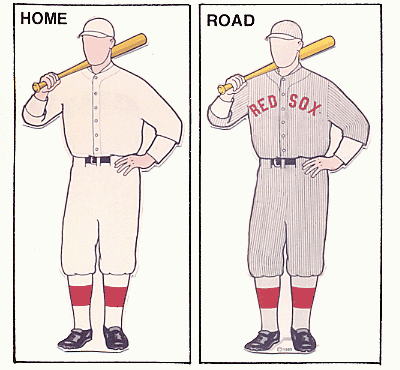 Taking a cue from the uniform worn against the Cubs in the most recent throwback game, the Cubs will take the field against one of baseball's most anonymous teams wearing uniforms and caps with no logo at all on them. This will cut way down on replica jersey sales, unfortunately.
Braves, August 12-14 and August 22-25: 1948 Cubs home/road uniforms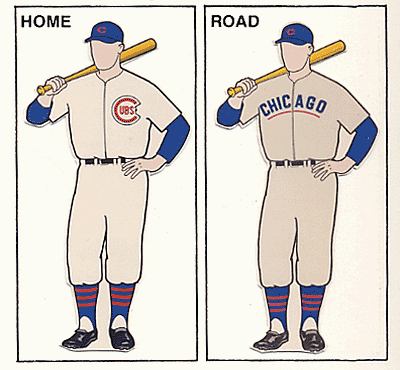 Hey, it worked in 2008 -- why mess with success?
Mets, Sept. 9-11: 1969 Cubs road uniforms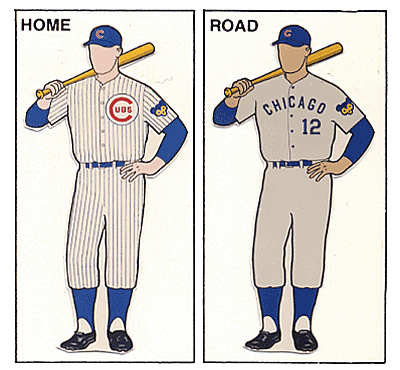 Revenge is ours. Or, maybe the Cubs should go for this 1999 "Turn Ahead The Clock" Mets jersey modeled by Orel Hershiser:
Revenge would be ours, yet again.
Padres, Sept. 26-28: 1978 Padres home/road uniforms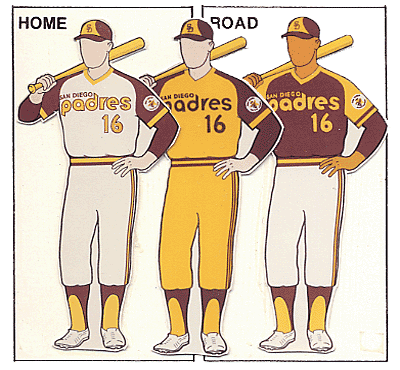 The Cubs deserve revenge over the Padres for 1984, too. Thus, wearing one of the numerous ugly San Diego uniform choices seems appropriate. There are a large number to choose from, including 1972 (all-yellow), the early-80's brownshirts, various forms of pinstripes from the 1980s and 1990s, or the "sand" color road uniforms finally ditched this year. We choose the "SAN DIEGO padres" uniform of 1978, so as to give maximum embarrassment to the hosts. (Since they weren't very nice hosts in 1984.)